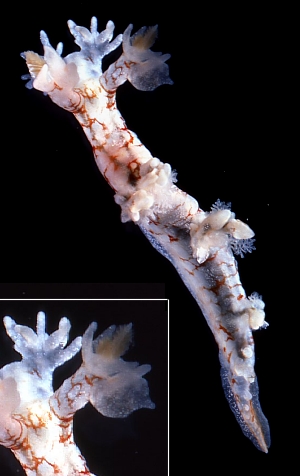 Bornella hermanni
Angas, 1864
Order: NUDIBRANCHIA
Suborder: DENDRONOTINA
Family: Bornellidae

DISTRIBUTION
Tropical Indo-West Pacific. Originally described from eastern Australia (Angas 1864) it has been reported from Japan under the synonym B. japonica (Baba 1949). It has also been found in the Marshall Islands, Indian Ocean, Malaysia and Korea.

PHOTO
Upper right: AM C. 138000, Australia, New South Wales, Twofold Bay, Brierly Point, intertidal, one specimen 10 mm preserved, 26 February 1983, Photo: W.B.Rudman.  Lower left: AM C. 126475, Australia, New South Wales, Jervis Bay, Summer Cloud Bay, 35°10.410'S, 150°41.280'E, 11 mm preserved, January 1981, Photo: W.B.Rudman. Lower right: AM C.136156,  NSW, Sandy Beach, N end, N of Coffs Harbour, New South Wales, Australia, 30° 9 S, 153° 12 E, 2 Nov 1982, Photo: W.B.Rudman.

The elongate general body shape is typical of the genus, with well-developed rhinophore stalks, paired dorso-lateral processes and oral tentacles elaborated into digitate oral lobes. The animal is a translucent cream colour with a broken network of red-orange lines on the back and sides of the body and scattered subepidermal opaque white granules which are sometimes aggregated in irregular patches. The colour pattern can extend onto the rhinophore stalk and the dorso-lateral processes. The lobe-like oral tentacle papillae, the branches of the rhinophore sheaths and the dorsolateral processes are translucent or pigmented white, sometimes with some yellow-orange pigmentation.
The rhinophore sheaths are tall and at the upper edge of each sheath are three long, narrow anterior and anterolateral papillae and a taller, posterior sail-like papilla, which bears two or three secondary papillae. Behind the rhinophores there are usually three pairs of dorsolateral processes, followed by two unpaired processes in the dorsal midline. The first and second pair of the dorso-lateral processes have three or four branches, one larger at the center (which can be bifurcate) and two smaller laterals. The third pair usually has three branches. In those dorso-lateral processes with four branches, there are three tripinnate translucent gills located on the inner surface at the junction of each lateral papilla. In dorso-lateral processes with three branches, there are two gills. The two posterior, single, dorsal processes are simple and decrease in size towards the tail. The living adults are up to 50 mm in length.
This species can be distinguished from B. stellifer by a number of external characters. In B. hermanni the large posterior process on the rhinophore sheath is always branched, while in B. stellifer it is single. In B. stellifer the rhinophores, dorso-lateral processes and oral tentacles all have an orange-red subapical ring which is absent in B. hermanni. In B. hermanni there are three pairs of dorso-lateral processes while in B. stellifer there are five or six pairs. There are also anatomical differences in the alimentary canal and reproductive system
Angas (1864) described and illustrated Bornella hermanni from Sydney Harbour, in eastern Australia, which clearly shows the three pairs of dorso-lateral processes. Although the published colour painting (Angas, 1864: Pl VI, fig. 1) [see separate message ] does not show the colour pattern clearly, the original watercolour is in the collections of the Australian Museum Library accurately shows the colour pattern of white specks, broken orange lines, white papillae and lack of orange rings on the dorso-lateral papillae. Although Bornella hermanni is not uncommonly found in central and southern New South Wales.
Bornella japonica Baba (1949) from Japan is a synonym. This species has been misidentified as B. stellifer in several field guides.
Angas, G. F. (1864) Description d'espèces nouvelles appartenant à plusieurs genres de Mollusques Nudibranches des environs de Port-Jackson(Nouvelle-Galles du Sud), accompagnée de dessins faits d'après nature. Journal de Conchyliologie, 12, 43–70.
Baba, K. (1949) Opisthobranchia of Sagami Bay collected by His Majesty, the Emperor of Japan. Iwanami Shoten, Tokyo.
Pola, M., Rudman, W. B. & Gosliner, T. M. (2009) Systematics and preliminary phylogeny of Bornellidae (Mollusca: Nudibranchia: Dendronotina) based on morphological characters with description of four new species. Zootaxa, 1975, 1-57.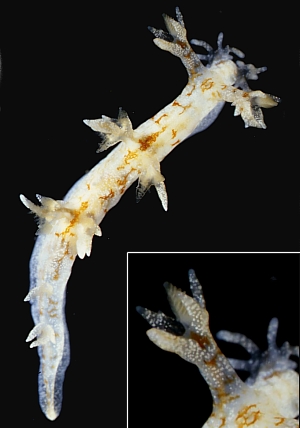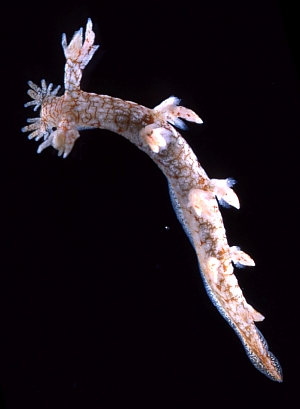 Authorship details
Rudman, W.B., 2009 (January 27)
Bornella hermanni
Angas, 1864.
[In] Sea Slug Forum.
Australian Museum, Sydney. Available from http://www.seaslugforum.net/factsheet/bornherm