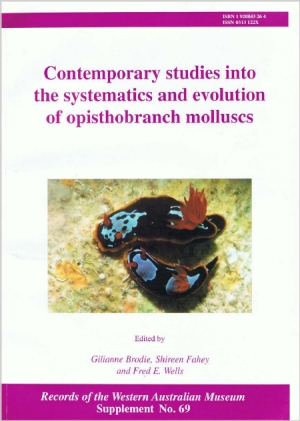 Contemporary studies into the systematics and evolution of opisthobranch molluscs
Editors: G. Brodie, S. Fahey & F.E. Wells.
Records of the Western Australian Museum Supplement 69
140 pp.
ISBN 1 920843 26 4

Price: $33 +postage [Australian dollars] from:
Perth WA 6000
Australia
EMAIL:
perth.shop@museum.wa.gov.au
WEB: www.museum.wa.gov.au 
This is a collection of some of the contributions given during a symposium on opisthobranchs held at the World Congress of Malacology, Perth, Western Australia, July, 2004.
Ingo Burghardt and Heike Wagele
Interspecific differences in the efficiency and photosynthetic characteristics of the symbiosis of "solarpowered" Nudibranchia (Mollusca: Gastropoda) with zooxanthellae

Cathryn L. Clarke
The population dynamics and feeding preferences of Bursatella leachii (Opisthobranchia: Anaspidea) in northeast Queensland, Australia .

Shireen J. Fahey
Comparison and cost benefit analysis of different data sets used for determining mollusc evolution: a case study of the cryptobranch nudibranch Halgerda (Mollusca: Gastropoda)

Heike Wagele, Ingo Burghardt, Nils Anthes, Jussi Evertsen, Annette Klussmann-Kolb and Gilianne Brodie
Species diversity of opisthobranch molluscs on Lizard Island, Great Barrier Reef, Australia

Anna L. Bass and Stephen A. Karl
Molecular phylogenetic analysis of genera in the family Plakobranchidae (Mollusca: Opisthobranchia: Sacoglossa)

Heike Wagele, Verena Vonnemann and William B. Rudman
Umbraculum umbraculum (Lightfoot, 1786) (Gastropoda, Opisthobranchia, Tylodinoidea) and the synonymy of U. mediterraneum (Lamarck, 1812)

Terrence M. Gosliner
Marine Gastropoda collected by the Steamer Albatross from the Philippines in 1908.

Angel Valdes and Shireen J. Fahey
Dorid nudibranchs described by J.E. Gray in M.E. Gray, 1842-1857 (Mollusca: Opisthobranchia)

Claudia Scares and Goncalo Calado
Spawn and early development of two sympatric species of the genus Doriopsilla (Opisthobranchia: Nudibranchia) with contrasting development strategies

Jamie M. Chan and Terrence M. Gosliner
A redescription of Facelina stearnsi Cockerell, 1901 (Nudibranchia: Aeolidacea: Facelinidae) with a reassignment of its generic placement

Gilianne D. Brodie and Goncalo Calado
Dendrodoris arborescens (Collingwood, 1881) (Mollusca: Nudibranchia): larval characteristics reveal a masked porostome species

Takeshi Furuhashi, Gary Cobb, Lesley Brooker and Richard Willan
Larval development in Dermatobranchus sp. (Nudibranchia: Arminina)

Jussi Evertsen
Retention of photosynthetic chloroplasts in five sacoglossans (Mollusca: Opisthobranchia) from the Houtman Abrolhos Islands

Nerida Wilson
New record of the nudibranch Polycera hedgpethi Er. Marcus, 1964, in South Australia, with a discussion on its occurrence in Australia

Authorship details
Rudman, W.B., 2007 (August 22)
Contemporary studies into the systematics and evolution of opisthobranch molluscs
. Editors: G. Brodie, S. Fahey & F.E. Wells..
[In] Sea Slug Forum.
Australian Museum, Sydney. Available from http://www.seaslugforum.net/factsheet/brbrodie