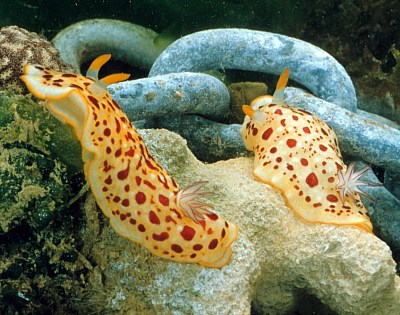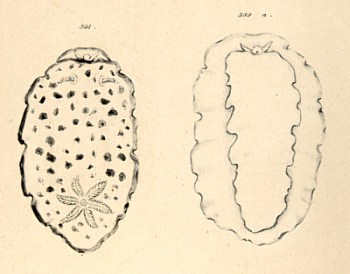 Chromodoris petechialis
(Gould, 1852)
Order: NUDIBRANCHIA
Suborder: DORIDINA
Superfamily: EUDORIDOIDEA
Family: Chromodorididae

DISTRIBUTION
Known only from Hawaii
PHOTO
UPPER: Two animals from Hawaii probably Kaneohe Bay, Oahu Id. Photo courtesy of the National Geographic Society. Photographer: Paul A Zahl, Copyright: National Geographic Magazine.
LOWER: Black & white photocopy of Pl.22, figs 391, 391a, from Gould 1856.
Known only from the original description, the original specimens are apparently lost. A photo by Paul Zahl (1959) from Hawaii fits the original description well. It is characterised by the creamy straw-coloured background, the orange border to the mantle and the foot and the irregularly shaped red spots on the mantle. The gills are white with red edging and the rhinophore clubs are bright orange. Kay & Young (1969) identified a species as C. petechialis but as I discuss earlier (Rudman, 1983) their animal is Chromodoris tinctoria. Another red-spotted chromdorid from Hawaii, Hypselodoris paulinae has been recently described. Its shape and detailed colour is quite different from that of C. petechialis.
Is this species now extinct? Any photos or sightings would be very welcome.
ORIGINAL DESCRIPTION:
Doris petechialis (Gould)
Animal rounded-oval, depressed, pale, a little slate-coloured each side, and with a marginal orange-coloured line, and a submarginal lemon-coloured shading; over the whole surface are small, regularly disposed, rose-red blotches, like a petechiae. Cervical tentacles tapering, vermilion-coloured, with only a minute portion laminated. Branchial star of six narrow, tapering, pinnate plumules. Head very small; labial tentacles short, conical; foot narrow, shorter than the body; beneath colourless, the mantle and foot bordered with pale orange.
Length two and a half inches; breadth an inch and a quarter.
Obtained at Honolulu, Oahu, Sandwich Islands. The drawing of the species is somewhat imperfect; yet its characters are sufficiently obvious for its identification. Figures 391, 391 a, dorsal and ventral views of the animal.
References.
• Gould, A.A. (1852) United States Exploring Expedition during the years 1838-1842. Under the command of Charles Wilkes, U.S.N. Vol 12. Mollusca and Shells. 510pp, with Atlas of Plates, 1856. [296-7, Pl.22, figs 391,391a].
• Kay, E.A. & Young, D.K. (1969): The Doridacea (Opisthobranchia: Mollusca) of the Hawaiian Islands. Pacific Science, 23(2): 172-231.
• Rudman, W.B. (1983) The Chromodorididae (Opisthobranchia: Mollusca) of the Indo-West Pacific: Chromodoris splendida, C. aspersa and Hypselodoris placida colour groups. Zoological Journal of the Linnean Society, 78: 105-173.
• Zahl, P.A. (1959) Unsung beauties of Hawaii's Coral Reefs. National Geographic Magazine, 116(4) October: 510-525
NOTE: Messages with photos of other species which have been misidentified as C. petechialis have been attached to the appropriate pages. To find these go to the SEARCH page and search for petechialis.
Authorship details
Rudman, W.B., 2001 (March 28)
Chromodoris petechialis
(Gould, 1852).
[In] Sea Slug Forum.
Australian Museum, Sydney. Available from http://www.seaslugforum.net/factsheet/chropete