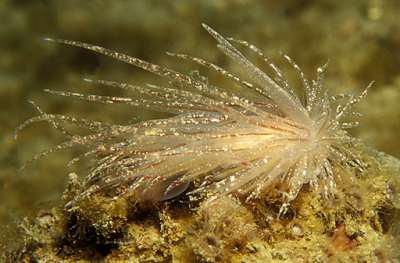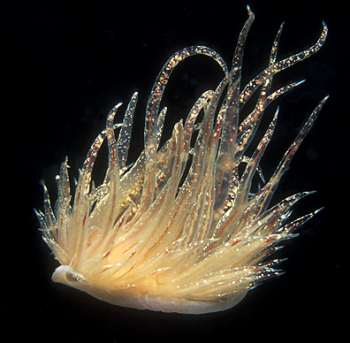 Cumanotus beaumonti
(Eliot, 1906)
Order: NUDIBRANCHIA
Suborder: AEOLIDINA
Family: Cumanotidae

DISTRIBUTION
Known only from British Isles and Norway. Reported in Forum from Mediterranean (Slovenia, Adriatic Sea).
PHOTO
Punta Piran,, Slovenia, northern Adriatic Sea. Depth: 12 m. Length: 3 cm. February 2005. rocky infralittoral. Lower photo showing animal swimming.  Photographer: Borut Furlan.
The body is broad and translucent with white and gold speckling covering the head, back and cerata. The long, slender cerata are arranged in 8 to 12 transverse ridges with 6 to 9 cerata in each ridge. The three anterior ceratal ridges are situated in front of the very long, smooth rhinophores. The digestive gland in the cerata ranges from brown to reddish pink. The ceratal wall is translucent clear with gold and white speckling and white tips. The head is broad with distinctive tentacular anterior foot corners. The oral tentacles are short, but distinct.
Two species of Cumanotus have been described from the northeastern Atlantic, and both are considered to be quite rare. One species, Cumanotus cuenoti Pruvot-Fol, 1948, was described from the Atlantic coast of southern France, and the other, Cumanotus beaumonti (Eliot, 1906) is known from the British Isles and Norway.
Whether the two species are distinct is difficult to say, as our knowledge of each is based on very few specimens. Thompson & Brown (1984) note that C. cuenoti appears to be smaller, not exceeding 10 mm in length, lacking oral and propodial tentacles, and having fewer denticles on the radular teeth. C. beaumonti is reported to reach 20 mm in length and Picton & Morrow (1994) report it to swim, as do Tardy & Gantes (1980) for C. cuenoti.  Cumanotus cuenoti feeds on Tubularia, and Ectopleura dumortieri (see Tardy & Gantes, 1980) and C. beaumonti feeds on Corymorpha nutans (see Picton & Morrow, 1994).
Photos of C. beaumonti in Picton & Morrow (1994) and Bernard Picton's website, look almost identical to this animal from the Mediterranean. It has previously only been reported from the British Isles and Norway, where it is considered to be very rare. It would suggest the species has a much wider distribution  and the rare finds in the northern Atlantic, may suggest a geographic range centered much further south. It is also possible that C. cuenoti is a synonym.
Eliot, C.N.E. (1906) Notes on some British nudibranchs. Journal of the Marine Biological Association, United Kingdom 7(3), 333-382, Pls.11-12.

Picton, B. E. (1991) Cumanotus beaumonti (Eliot, 1906), a nudibranch adapted for life in a shallow sandy habitat? Malacologia 32: 219-222.

Picton, B. E. and Morrow, C. C. (1994) A Field Guide to the Nudibranchs of the British Isles. London, Immel Publishing Ltd.  143pp.

Pruvot-Fol,A (1948): Deux aeolidiens d'Arcachon. Journal de Conchyliologie 88(3), 97-100

Tardy J. & Gantes H. 1980. Un Mollusque Nudibranche peu connu : Cumanotus cuenoti A. Pruvot-Fol, (1948) ; redescription, biologie. Bulletin de la Société zoologique de France, 105: 199-207.

Thompson, T.E. & Brown, G.H. (1984) Biology of Opisthobranch Molluscs, Vol 2. 229pp. 41 Pls., Ray Society: London
Authorship details
Rudman, W.B., 2005 (April 11)
Cumanotus beaumonti
(Eliot, 1906) .
[In] Sea Slug Forum.
Australian Museum, Sydney. Available from http://www.seaslugforum.net/factsheet/cumabeau