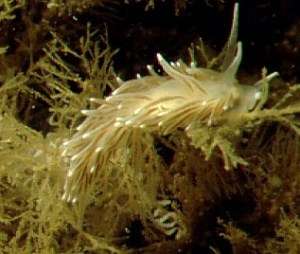 Cuthona concinna
(Alder & Hancock, 1843)
Order: NUDIBRANCHIA
Suborder: AEOLIDINA
Family: Tergipedidae

DISTRIBUTION
North Atlantic - both European and North American coasts, North Pacific - Vancouver Is, Canada.
PHOTO
Wemeldinge, de Oosterschelde, the Netherlands. PHOTO: Peter H. van Bragt
Grows to about 12mm in British waters. Feeds on a variety of hydroids.
Reference:
• Thompson, T.E. & Brown, G.H. (1984) Biology of Opisthobranch Molluscs, Vol 2. Ray Society: London.