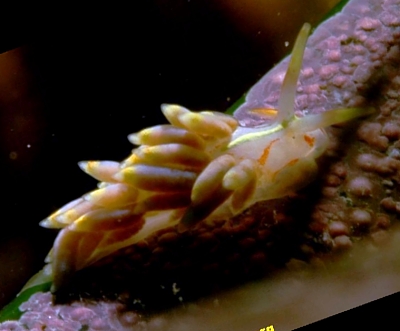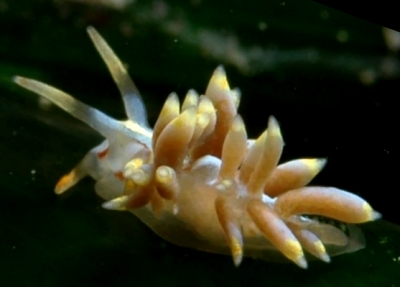 Cuthona genovae
O'Donoghue, 1926
Order: NUDIBRANCHIA
Suborder: AEOLIDINA
Family: Tergipedidae

DISTRIBUTION
Relatively common in the Mediterranean Sea. Also occurs in the east Atlantic as far north as Western Ireland.
PHOTO
Illa Mateua, L'Escala, Costa Brava, Spain. September 19, 2008  The animal was feeding on the leaves of the plant Posidonia oceanica, in less than 5 meters of depth. Estimated size is less than 10 mm. Photo: Miquel Pontes.
Small tergipedid aeolid growing to approx. 6 mm in length. The body is translucent clear with a pattern opaque white pigmentation, either as a fine dusting or a scattering of larger white spots. There is a distinctive symmetrical pattern of orange streaks, one each side running from the oral tentacles to the anterior base of the rhinophores, another from the posterior base of the rhinophores to the first ceratal cluster, and a third which runs back from the first ceratal cluster to the second and then angles in behind the heart to meet its counterpart from the other side in the midline. There is also an orange band running across the front of the head between the oral tentacles. In some cases the orange pigmentation is not clear and the places where they normally occur appear as a dark translucent clear streak, devoid of white pigmentation. There is usually a broad yellow median band running from between the rhinophores back to the heart. The upper half of the rhinophores and oral tentacles are yellow and the lower half is opaque white, with a uncoloured band between them. Both the rhinophores and oral tentacles can have an thin subapical orange band. The cerata have a broad subapical yellow band and can alsos have a thin orange band on the upper edge of the yellow. The rest of the ceratal wall is translucent clear, sometimes with patches of white dusting or white spots. The background colour of the cerata range from dark brown to almost yellow depending on the contents of the ceratal digestive gland.
For many years it has been confused with Trinchesia foliata which is similar in colour but lacks the median yellow line. It differs in the shape of the radular teeth (Bouchet, 1976).
Bouchet, P. (1976) Trinchesia genovae (O'Donoghue, 1926) éolidien méconnu du littoral Méditerranéen. Beaufortia, Zoological Museum Univ. Amsterdam 26: 235-242 .
Brown, G.H. (1980) The British species of the aeolidiacean family Tergipedidae (Gastropoda: Opisthobranchia) with a discussion of the genera. Zoological Journal of the Linnean Society 69: 225-255
Miller, M. C. (1961) Distribution and food of the nudibranchiate Mollusca of the south of the Isle of Man. Journal of Animal Ecology, 30: 95-116.
Miller, M. C. (2004) An appraisal of the identity of the New Zealand species of the aeolid family Tergipedidae (Gastropoda: Opisthobranchia). Journal of Natural History 38: 1183-1192.
Picton, B. E. and Morrow, C. C. (1994) A Field Guide to the Nudibranchs of the British Isles. London, Immel Publishing Ltd.  143pp.
Authorship details
Rudman, W.B., 2008 (May 1)
Cuthona genovae
O'Donoghue, 1926.
[In] Sea Slug Forum.
Australian Museum, Sydney. Available from http://www.seaslugforum.net/factsheet/cuthgeno