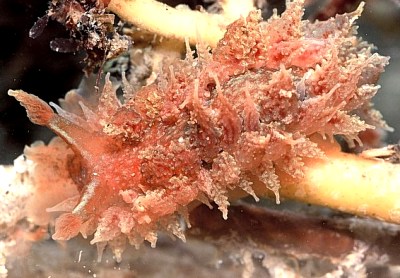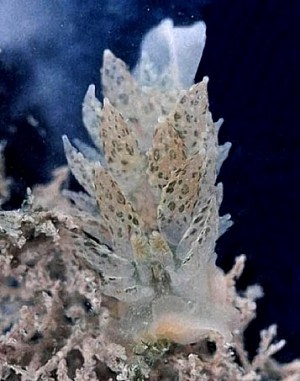 Dirona picta
MacFarland in Cockerell & Eliot, 1905
Order: NUDIBRANCHIA
Suborder: ARMININA
Family: Dironidae

DISTRIBUTION
Northern Oregon, USA to Baja California Sur, Mexico. Also reported from Japan.
PHOTO
UPPER: Naples Reef, Santa Barbara County, California, subtidal. Photo: Todd Huspeni.
LOWER: specimen crawling onto its bryozoan prey,
Scrupocellaria californica, Punta Gorda, northern California. Photo: Jeff Goddard.
Like its close relatives, Dirona aurantia and Dirona albolineata, Dirona picta feeds on arborescent bryozoans. However, with its tuberculate cerata and more complex color pattern, Dirona picta is highly cryptic on its prey, while its congeners are conspicuously colored. The body color of Dirona picta varies from tan to orange brown to greenish, possibly as a result of diet.
Dirona picta grows to about 40mm in length, lays bundled white egg cords similar to those of its congeners, and has planktotrophic larval development (Goddard, 1992, personal observations). Dirona picta ranges from Cape Meares, on the northern Oregon coast (Goddard, 1997) to Puerto Rompiente, Baja California Sur, Mexico (Farmer & Collier, 1963). Also known from the northern Gulf of California and Japan (McDonald, 1983).
References:
• Farmer, W. M. & C. L. Collier. 1963. Notes on the Opisthobranchia of Baja California, Mexico, with range extensions. The Veliger, 6(2): 62-63.
• Goddard, J.H.R. 1987. Observations on the opisthobranch mollusks of Punta Gorda, California, with notes on the distribution and biology of Crimora coneja. The Veliger, 29(3): 267-273.
Goddard, J. H. R. 1992. Patterns of development in nudibranch molluscs from the northeast Pacific Ocean, with regional comparisons. Ph.D. Dissertation, University of Oregon, Eugene, Oregon.
• Goddard, J. H. R. 1997. Range extensions of eight northeastern Pacific nudibranchs. Opisthobranch Newsletter, 23(4): 13.
• Goddard, J.H.R. 1998. A summary of the prey of nudibranch molluscs from Cape Arago, Oregon. Opisthobranch Newsletter, 24(2): 11-14.
• McDonald, G.W. 1983. A review of the nudibranchs of the California coast. Malacologia, 24(1-2): 114-276.
• McDonald, G.R. & J.W. Nybakken. 1978. Additional notes on the food of some California nudibranchs with a summary of known food habits of California species. The Veliger, 21(1): 110-119.
Authorship details
Goddard, J.H.R., 2000 (July 12)
Dirona picta
MacFarland in Cockerell & Eliot, 1905.
[In] Sea Slug Forum.
Australian Museum, Sydney. Available from http://www.seaslugforum.net/factsheet/diropict