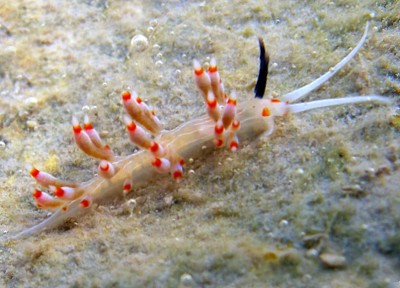 Facelina lineata
Eliot, 1905
Order: NUDIBRANCHIA
Superfamily: AEOLIDINA
Family: Glaucidae

DISTRIBUTION
Known from east Africa and India but may have a much wider Indo-West Pacific distribution.
PHOTO
Locality: Poshitra, exposed reef, Gujarat, Arabian Sea, 15 November 2009, exposed reef. Length: 10mm. Photographer: Deepak Apte.
The body is translucent with the pale orange-pink viscera showing through the body wall. There is a single median white line, sometimes broken, running from the head to the posterior tip of the foot. There are also a white line on each side of the dorsum which is broken at each ceratal cluster. There is another white line on each side running below the cerata from the head back to just below the last cerata. On the head are three large orange-red patches, one in the dorsal midline and one on each side of the head in line with the rhinophores. The rhinophores are black with a white tip. In Crossland's colour painting on which Eliot relied for his external description the black rhinophores appear to be perfoliate but this may just be the way Crossland painted them as Eliot is unable to determine leaflets in the preserved specimen, there are no sign of them in the Gugarat specimen, and the rhinophores were smooth in 4 specimens I found in Tanzania. The cerata are a pinkish orange colour from the digestive gland contents, the only colour on the ceratal wall is a orange-red subterminal band. Another apparent error in the original description is the depiction of the dorsal white lines, the painting showing 4 continuous lines. In the material I am familiar with there are only 3 lines as described here.

This is one of two similarly coloured species described by Eliot (1905). Deepak Apte's photo from Gujurat is identical in colour to Facelina lineata [Pl. XVI fig. 4.]. The second species, Hervia lineata [= Cratena lineata] is also illustrated on Plate XVI, in fig 2.
It is possible that both these species belong in the same genus, which means that one would need to be given a new name. At this stage I will leave this species as Facelina lineata although it is unlikely to belong in that genus.

Eliot, C.N.E. (1905). On some nudibranchs from east Africa and Zanzibar. Part VI. Proceedings of the Zoological Society of London, 1904(2): 268-298, Pls. 16-17.
Authorship details
Rudman, W.B., 2009 (November 23)
Facelina lineata
Eliot, 1905.
[In] Sea Slug Forum.
Australian Museum, Sydney. Available from http://www.seaslugforum.net/factsheet/faceline