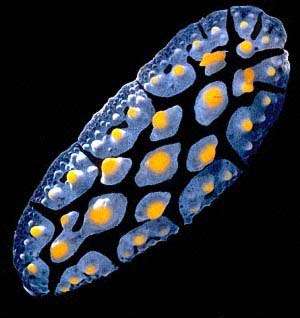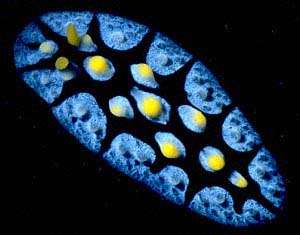 Fryeria picta
(Pruvot-Fol, 1957)
Order: NUDIBRANCHIA
Suborder: DORIDINA
Family: Phyllidiidae

DISTRIBUTION
Brunckhorst records it from the western Pacific Ocean (Fiji, Solomons, Vanuatu, Papua New Guinea, Great Barrier Reef). Recorded here from Philippines, Thailand.
PHOTO
UPPER: Pelorus Island, Palu Island Group, North Queensland, 10m, 33mm long, November 1983. PHOTO: Bill Rudman. (Brunckhorst, 1993: Plate 4H). LOWER: 10 m depth, patch reef off Lion Island, Papua New Guinea, 17 June 1988, dorsal view of 14 mm specimen. PHOTO: D. Brunckhorst. (Brunckhorst, 1993: Plate 5A).
NOTE: Fryeria menindie (Brunckhorst, 1993) was shown by Yonow, 1996 to be a junior synonym of Phyllidia picta Pruvot-Fol, which Yonow showed was in fact a species of Fryeria. Animals previously identified as F. menindie on the Forum have been moved to Fryeria picta.
External features distinguishing Fryeria picta from its congeners include the broad blue bases to its isolated, large gold capped tubercles, the three narrow, black median ridges and pale grey coloration ventrally (the tips of the oral tentacles are also grey). Fryeria picta resembles Fryeria rueppelii, Fryeria guamensis and Fryeria marindica. Fryeria picta and F. rueppelii are oval in shape whereas F. guamensis and F. marindica are elongate. Fryeria rueppelii has crescentic areas on its margin, however these are white (as are the bases of the tubercles; blue in F. picta). The mantle margin of F. rueppelii is edged in yellow-orange whereas there is no such contrasting coloration to the mantle edge in F. picta. Fryeria marindica also has blue and gold coloration, but does not possess the crescent shaped areas around the margin. The blue areas of F. marindica are elongate and angular. Fryeria marindica possesses a single midline longitudinal ridge (F. picta has three ridges) of coalesced tubercles. Fryeria marindica has many black rays running between its blue tubercular areas. Fryeria guamensis has pale yellow capped tubercles (gold in F. menindie), lacks blue coloration and has neither crescentic areas nor black rays extending laterally to the mantle margins.

Brunckhorst had considered P. picta to be a junior synonym of P. coelestis, but Yonow's examination of the holotype of P. picta showed it to have traces of the typical color pattern with a solid black background, and to have the anus opening ventrally.
Brunckhorst, D.J. (1993)

The systematics and phylogeny of Phyllidiid Nudibranchs (Doridoidea).

Records of the Australian Museum, Supplement 16

: 1-107.

Pruvot-Fol, A. (1957) Révision de la famille des Phyllidiadae. 2. Journal de Conchyliologie 97: 104-135, Pl.1.

Yonow, N. (1996) Systematic Revision of the Family Phyllidiidae in the Indian Ocean Province: Part 1 (Opisthobranchia: Nudibranchia: Doridoidea). Journal of Conchology, 35: 483-516.
Authorship details
Rudman, W.B., 2006 (July 14)
Fryeria picta
(Pruvot-Fol, 1957).
[In] Sea Slug Forum.
Australian Museum, Sydney. Available from http://www.seaslugforum.net/factsheet/fryepict