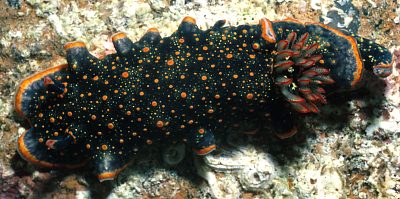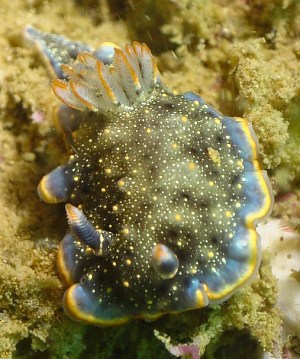 Glossodoris ghanensis
Edmunds, 1968
Order: NUDIBRANCHIA
Suborder: DORIDINA
Superfamily: EUDORIDOIDEA
Family: Chromodorididae

DISTRIBUTION
Eastern Atlantic Ocean - known from Ghana, Canary Islands and the Azores.
PHOTO
Upper: São Miguel, Azores, July 1988. Animals 15mm & 35mm in length, alive Photo: T.M. Gosliner
Lower: Dakar, Senegal, West Africa. Depth: 4m, June 05, 2003, 25-30mm long. Photo: Marina Poddubetskaia
The living animals are a translucent grey, the pigment often aggregating into dense almost black patches. There are rounded smooth orange tubercles scattered over the mantle and the foot and these are surrounded by smaller orange or yellow spots. At the mantle edge is a translucent clear band, inside of which is an orange band which grades in colour from dark on the outside to light on the inside. [In some specimens from red-brown to orange, and in others from red-orange to yellow]. Inside the orange band there is a region which is a mottled bluish white band, caused by the presence of numerous white mantle glands. The rhinophores are a dark bluish grey with an orange tip to the rhinophore club. From the orange tip, an orange line runs down the posterior midline and another orange line runs some distance down each side of the club. The rhinophoral and branchial pockets are surrounded by an orange ring. The gills are grey and semi-transparent with an orange pigmentation on the rachis edges. There is an orange line running around the posterior edge of the foot.
See my reasons for considering Glossodoris edmundsi, Cervera, Garcia-Gomez & Ortea, 1989 to be a synonym of G. ghanensis Edmunds, 1968.
References:
• Cervera, J.L., Garcia-Gomez, J.C. & Ortea, J.A. (1989). On two rare chromodorid nudibranchs (Opisthobranchia: Chromodorididae) from the Eastern Atlantic, with the description of a new species of Glossodoris, Journal of Molluscan Studies, 55: 445-453
• Edmunds, M. (1968) Opisthobranchiate Mollusca from Ghana. Proceedings of the Malacological Society of London, 38: 83-100.
• Edmunds, M. (1981) Opisthobranchiate Mollusca from Ghana: Chromodorididae. Zoological Journal of the Linnean Society, 72(2): 175-201.
• Gosliner, T.M. (1990). Opisthobranch Mollusks from the Azores Islands. 1. Runcinidae and Chromodorididae. Açoreana, supplement: 135-166
• Ortea, J., Valdes, A. & Garcia-Gomez, J.C. (1996) Review of the atlantic species of the Family Chromodorididae (Mollusca: Nudibranchia) of the blue chromatic group. Avicennia (Suppl. 1): 1-160.
Authorship details
Rudman, W.B., 2003 (May 18)
Glossodoris ghanensis
Edmunds, 1968 .
[In] Sea Slug Forum.
Australian Museum, Sydney. Available from http://www.seaslugforum.net/factsheet/glosghan