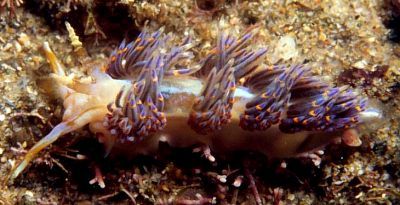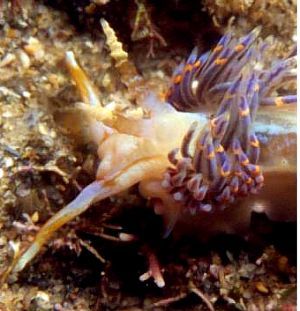 Godiva quadricolor
(Barnard, 1927)
Order: NUDIBRANCHIA
Suborder: AEOLIDINA
Family: Glaucidae

DISTRIBUTION
'Widespread in the Cape Province, South Africa, from Bloubergstrand on the Atlantic coast to Richmond, near East London.' .. Gosliner, T. (1987). Also reported from Western Australia (Willan, 1987) and the Mediterranean (see message from J.L. Cervera)
PHOTO
Pumula, south coast KwaZulu-Natal, SOUTH AFRICA, intertidal zone, July 2001. Photo: Valda Fraser.
'G. quadricolor with its brown cerata with blue, orange, and yellow pigment, is one of the most striking South African aeolids. .... It is a voracious predator, readily consuming other nudibranch species.'.. Gosliner, T. (1987).

References:
• Barnard, K.H. (1927) South African nudibranch mollusca, with descriptions of new species, and a note on some specimens from Tristan d'Acunha. Annals of the South African Museum, 25(1): 171-215, Pls 19, 20.
• Gosliner, T. (1987) Nudibranchs of Southern Africa. Sea Challengers, Jeff Hamann: Tokyo.
• Willan, R.C. (1987) Phylogenetic systematics and zoogeography of Australian nudibranchs. 1. Presence of the aeolid Godiva quadricolor (Barnard) in Western Australia. Journal of the Malacological Society of Australia, 8: 71-85.