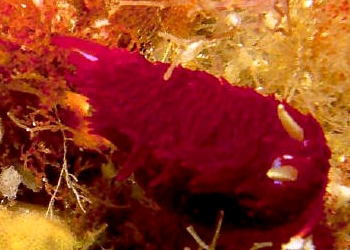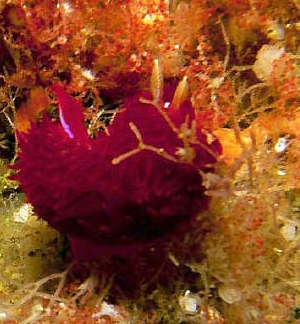 Janolus ignis
Miller & Willan, 1986
Order: NUDIBRANCHIA
Suborder: ARMININA
Family: Zephyrinidae

DISTRIBUTION
Throughout the main islands of New Zealand. Inhabits only clean water situations and is apparently confined to subtidal depths.
PHOTO
Blue Maomao Arch, Poor Knights Islands, NE New Zealand, May 2003. on the underside of a rock, close to the entrance to the archway. Approx 2-3cm long. Photos: Crispin Middleton
Upper part of body uniform, deep brick-orange, patterned with pale violet (or lilac-blue) streaks, the most prominent of which encircles rhinophores and forms a Y immediately behind them; streaks short on back, especially noticeable over pericardium; a continuous lilac-blue line encircles foot just below smallest cerata and extends onto tail but does not reach tip. Cerata deep orange-red, paler distally. Foot orange, lighter than notum or cerata. Oral tentacles orange, becoming creamish yellow at tips. Rhinophores creamish yellow, with narrow white streak along axis on posterior face.
Body & foot large (to 50 mm in length), elongate, broader anteriorly. Two large, thick oral tentacles present, one on either side of the mouth; oral tentacles slightly shorter than cerata in that region. Anus in midline, two-thirds of way down body. Pericardium in front of anus. Rhinophores tall, held erect, bearing 14 or 15 lamellae that alternate regularly towards pointed apices but become irregular proximally; lamellae present for entire length of rhinophores. Caruncle rather low, narrow, parallel-sided; consisting of a few crinkled lamellae, extending a short distance behind rhinophores. Cerata elongate, smooth, with pointed apices, digestive diverticulum undivided internally and not visible from the outside; largest cerata occur on middle section of body - approximately twice length of rhinophores, many shorter cerata present on sides of body below large one; densest cerata located on back and sides, cerata sparse (only 5 to 8) around anterior margin of head in advance of rhinophores
It is known only from the original description which included records from Stewart Island, Wellington, Poor Knights Islands and the Three Kings Islands, showing a wide distribution throughout New Zealand. It is reported to be active nocturnally, residing during the day within clumps of its food, the red arborescent bryozoan Orthoscuticella aff. margaritacea.
Reference:
• Miller, M.C. & Willan, R.C. (1986)A review of the New Zealand arminacean nudibranchs (Opisthobranchia: Arminacea). New Zealand Journal of Zoology 13: 377-408.
Authorship details
Rudman, W.B., 2003 (June 4)
Janolus ignis
Miller & Willan, 1986.
[In] Sea Slug Forum.
Australian Museum, Sydney. Available from http://www.seaslugforum.net/factsheet/janoigni