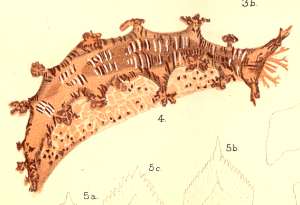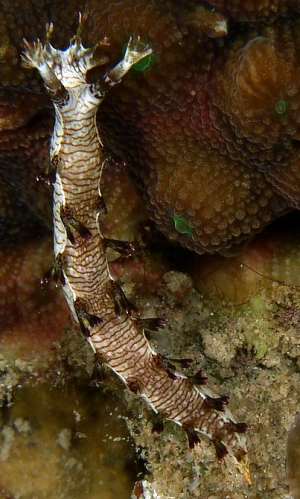 Marionia levis
Eliot, 1904
Order: NUDIBRANCHIA
Suborder: DENDRONOTINA
Family: Tritoniidae

DISTRIBUTION
western Indian Ocean [Comoro Ids, Tanzania, Kenya, Red Sea].
PHOTO
Upper: Eliot (1904), original illustration of Marionia levis. Plate 4, fig. 4. Lower: Eilat bay, Israel, Red Sea. Photographer: Oren Lederman

A narrow elongate tritoniid with up to 9 or to gills down each side of the mantle. The gilla are arranged in pairs, one on each side,  the first pair exending out almost horizontally, the next pair stading vertically, and the rest in alternating position. The mantle edge is clearly delineated by a small ridge usually outline in white. The colour of the body ranges from grey to brown or green and there is a pattern of dark brown transverse lines across the mantle. There are sometimes white lines or rows of white dots as well. There is usually a similar colour pattern on the sides of the body. Dark brown spots are usually present on the gill stalks and the rhinophore sheaths. Avila, Kelman, Kashman & Benayahu (1999) report that this species feeds exclusively on the soft coral Parerythropodium fulvum fulvum, where it is often found. There are colour forms to match the variable colour of the soft coral on which they are found. This colour match, and their gills, which look remarkably like the extended polyps of the soft coral, make them extremely well camouflaged. It grows to about 40 mm long alive but is usually about half that size.
Originally described from East Africa, there are reports now on the Forum from much of the tropical western Indian Ocean. In a separate message [#13842] I discuss why  Marioniopsis fulvicola Avila, Kelman, Kashman & Benayahu, 1999, described from Eilat, Red Sea is a synonym.
Avila, C., Kelman, D., Kashman, Y., and Benayahu, Y. (1999) An association between a dendronotid nudibranch (Mollusca, Opisthobranchia) and a soft coral (Octocorallia, Alcyonaria) from the Red Sea. Journal of Natural History 33: 1433-1449.

Eliot, C.N.E. (1904) On some nudibranchs from East Africa and Zanzibar. Part V. Proceedings of the Zoological Society of London, 1904(2): 83-105, Pls.3-4.

Yonow, N. (2000)  Red Sea Opisthobranchia 4: The orders Cephalaspidea, Anaspidea, Notaspidea and Nudibranchia: Dendronotacea and Aeolidacea. Fauna of Arabia, 18: 87-131.
Authorship details
Rudman, W.B., 2005 (May 20)
Marionia levis
Eliot, 1904.
[In] Sea Slug Forum.
Australian Museum, Sydney. Available from http://www.seaslugforum.net/factsheet/marilevi