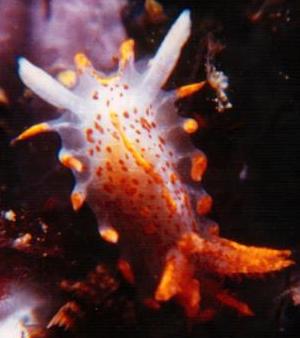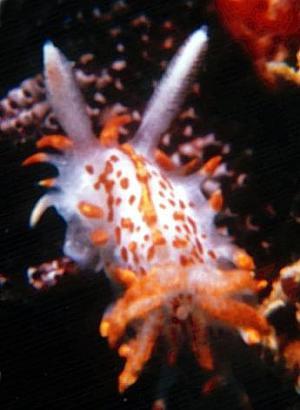 Okenia mediterranea
(von Ihering, 1886)
Order: NUDIBRANCHIA
Suborder: DORIDINA
Superfamily: ANADORIDOIDEA
Family: Goniodorididae

DISTRIBUTION
Mediterranean
PHOTO
La Cabrita Reef, Bay of Algeciras, Strait of Gibraltar, southern Spain at 26 m. depth. December, 2000, 12mm long. Photo: Alma Sánchez
Body is ovate with approximately 9 pairs of elongate papillae around the edge of the mantle. There is a ridge running down the dorsal midline from the rhinophores to the gills. The gills and rhinophores are relatively long. Grows to about 12mm long.
The common colour form is translucent white with orange-red and yellow markings, sometimes merging to orange, as shown in the accompanying photos. The mantle papillae are tipped in orange/yellow and the gills are similarly coloured. The median ridge is usually yellow with orange-red markings and orange-red marking are scattered over the dorsum and sides of the body. In a less common colour form there are only yellow markings. According to Cattaneo-Vietti et al (1990) this species feeds on gorgonians such as Paramuricea clavigera, but Cervera et al (1991) report finding specimens feeding on the ctenostome bryozoan Alcyonidium cf. mytili.
Cattaneo-Vietti, R., R. Chemello, & Giannuzzi-Savelli, R. (1990) Atlas of Mediterranean nudibranchs [Atlante dei nudibranchi del Mediterraneo], 264 pp., 14 pls. La Conchiglia: Rome.

Cervera, J.L., Lopez-Gonzalez, P.J. & Garcia-Gomez, J.C . (1991) Taxonomic and geographical range data on two rare species of Okenia (Gastropoda: Nudibranchia: Doridacea) from the esastern Atlantic. The Veliger, 34: 56-66.

von Ihering, H. (1886), Beitrage zur Kenntniss der Nudibranchien des Mittelmeeres, 2. 4, Die Polyceraden. Malakozool. Blatt. NF. 8: 12-48

Valdés, A. and Ortea, J. (1995) Revised taxonomy of some species of the genus Okenia Menke, 1830 (Mollusca: Nudibranchia) from the Atlantic Ocean, with the description of a new species. The Veliger, 38: 223-234.
Authorship details
Rudman, W.B., 2001 (February 25)
Okenia mediterranea
(von Ihering, 1886).
[In] Sea Slug Forum.
Australian Museum, Sydney. Available from http://www.seaslugforum.net/factsheet/okenmedi