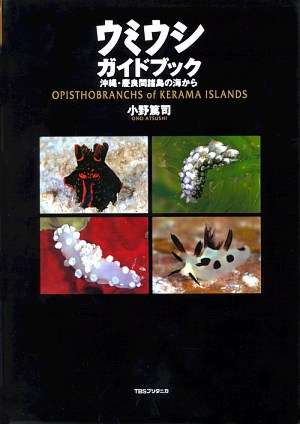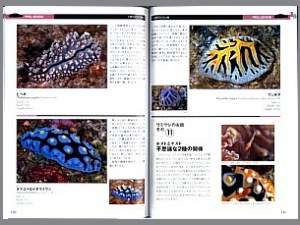 Opisthobranchs of Kerama Islands
Atsushi Ono
Published June 1999.
TBS-BRITANNICA & Co., Ltd., Japan.
184pp.
Although I knew that Atsushi Ono was sending me a copy of his book, when I received it today I was surprised and impressed with the quality of the printing, and the coverage of the species included. I haven't actually counted the number of species covered but with about 170 pages with photos, and 2 photos per page that adds up to about 340 species. While there are many old favourites from the Indo-West Pacific there are also a proportion of interesting species which seem to be found only in the tropical and subtropical northwest Pacific. Those of you who have seen the photos Atsushi Ono has sent to the Forum recently, will know that his ability to photograph small opisthobranchs is second to none. His photos of 3mm long gastropterids for example are just amazing.
Each photo has an English caption with name, locality and size, and for Japanese readers there is a short account describing each species. The structure of the book can be seen in the lower illustration. The open book is A4 size. As well as an extensive coverage of nudibranchs there are sections on cephalaspideans, anaspideans, pleurobranchs and sacoglossans.
This book is restricted to the fauna of Kerama Island a small island near Okinawa in the archipelago to the south of the main islands of Japan. It is extremely interesting to catch a glimpse of the fauna of one small corner of the Indo-West Pacific, with its mixture of widespread species and regional endemics. The Japanese influence is especially interesting because it is the first chance I have had of seeing photographs of some of the species described by the prolific Japanese worker Dr Kikutaro Baba.
And the question you will all ask - what are the identifications like? I have made no attempt to check every name but I can say that names are up to date - at least to 1998, and show a familiarity with the literature. I don't agree with some usages, such as Caloria indica for what I would call Phidiana indica but on the whole that reflects the unstable state of our knowledge rather than who is right or wrong. There are some interesting finds such as the unnamed aeolid 'sp 10' on p174. As soon as I saw it I recognised it as Phidiana salaamica, a species I described from Tanzania in 1980. To my knowledge this is the first record of it since my finds in the 1970s from the other side of the Indian Ocean.
You may like to compare my comments, as a professional, to those already made by Nishina Masayoshi, in a recent message to the Forum.
Nishina Masayoshi in another message told me that the book is selling in Japan for about 2,500 yen (approx $US20), which is amazingly inexpensive for the size and quality of this publication.
To buy directly from Japan, check Atsushi Ono's website at: http://online.divers.ne.jp/ono/book-english.html for information on buying copies.
Dave Behrens' Sea Challengers online bookshop www.seachallengers.com will also be stocking the book. (Email: dave@seachallengers.com
Bill Rudman.
Authorship details
Rudman, W.B., 1999 (July 8)
Opisthobranchs of Kerama Islands
. Atsushi Ono.
[In] Sea Slug Forum.
Australian Museum, Sydney. Available from http://www.seaslugforum.net/factsheet/onobook