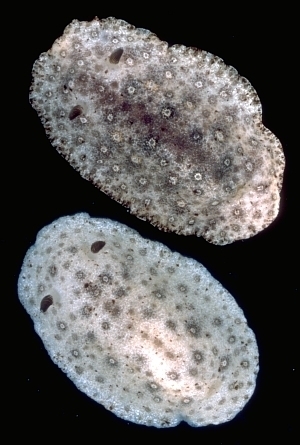 Paradoris dubia
(Bergh, 1904)
Order: NUDIBRANCHIA
Suborder: DORIDINA
Superfamily: EUDORIDOIDEA
Family: Discodorididae

DISTRIBUTION
Southern Australian waters from sthn New South Wales, Tasmania, Victoria, South Australia and sthn Western Australia.
PHOTO
Locality: Bluff Beach, Yorke Peninsula, South Australia. intertidal under rocks. 23 February 1985. 4 specimens 14, 24, 28, 31 mm long alive. AM C145212. Photos: Bill Rudman.
The mantle is translucent white with varying amounts of brown pigmentation, some animals being very pale while others are dark brown. Scattered over the dorsum are greyish brown blotches some of which encircle a ring of white glands, which themselves surround a low rounded pustule. These glandular structures are very characteristic of this species and greatly vary in number, some animals, like those figured here, have many scattered over the dorsum, while other animals have just a few down each side of the mantle skirt.
There are 7-9 tripinnate gills. They are transparent with brown speckling, and when extended are relatively small for the size of the animal. The rhinophore clubs are dark brown or black. The underside of the mantle, the sides and sole of the foot are translucent whitish with scattered dark brown specks. The brown speckling is very variable, some specimens having almost none while others have many.
In my field notes I describe this species as looking like lumps of white sponge on intertidal rocks. When disturbed a milky secretion is exuded from the glands on the dorsum. It is a relatively small dorid reaching about 35 mm in length alive. There are no easy external characteristics to show it belongs in the genus Paradoris. One that can be seen is a groove along the outer side of the oral tentacles.
Like many of the 'flat' nondescript dorids, this species has had a confused nomenclatural history. Described from preserved specimens from northern Tasmania (Bergh, 1904) later workers were not aware that this species possessed such distinctive mantle glands. Bergh placed this species in the genus Discodoris, and most subsequent reports list it as Discodoris dubia, but Basedow & Hedley (1905) and Burn (1957) misidentified as Alloiodoris marmorata Bergh, 1904 - a quite different species. In Dayrat's recent review (2006), he also considers Discodoris? egena Bergh, 1904; Alloiodoris nivosus Burn, 1958; and Paradoris leuca Miller, 1995 to be synonyms.  While I agree with his first two synonymies, I think there is as yet too little information available on the living New Zealand species, Paradoris leuca, to be sure its just a colour variant.
Basedow, H. & Hedley, C.  1905. South Australian nudibranchs, and an enumeration of the known Australian species. Transactions of the Royal Society of South Australia 29: 134-160.
Bergh, L.S.R. (1904) Malacologische Untersuchungen. In: C.G. Semper, Reisen im Archipel der Philippinen, Wissenschaftliche Resultate. Band 9. Lief 1: 1-56, Pls. 1-4.
Burn, R.F. (1957) On some opisthobranchia from Victoria. J. Mal. Soc. Aust. 1, 11-29, Pls1-3.
Burn, R.F. (1958)  Further Victorian Opisthobranchia. J. Mal. Soc. Aust. 2, 20-36. (pls. 6-7)
Dayrat, B. (2006) A taxonomic revision of Paradoris sea slugs (Mollusca, Gastropoda, Nudibranchia, Doridina). Zoological Journal of the Linnean Society, 147 (2): 125-238.
Authorship details
Rudman, W.B., 2007 (January 10)
Paradoris dubia
(Bergh, 1904).
[In] Sea Slug Forum.
Australian Museum, Sydney. Available from http://www.seaslugforum.net/factsheet/paradubi