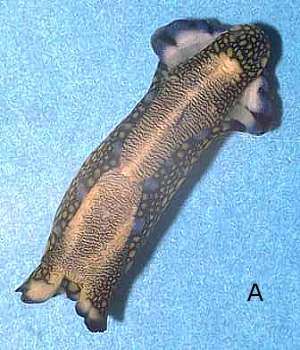 Philinopsis reticulata
(Eliot, 1903)
Order: CEPHALASPIDEA
Superfamily: PHILINOIDEA
Family: Aglajidae

DISTRIBUTION
Tropical Indo-west Pacific. (Known only from East Africa - reported in Forum from Indonesia, Australia, New Caledonia).
PHOTO
A, Fungu Yasin, Dar es Salaam, Tanzania, November 30, 1976, 32mm long alive.
B, dorsal view. Passe Deverd, 20°44.7'S, 164°15.5'E, 15-20m, outer Barrier Reef, near Koumac, New Caledonia, outside of reef, coral slabs, 13 October 1993, 1 specimen, 42mm long alive, AM C200462.
C, same as B, but ventral view with anterior end twisted around to show lateral view of head, including ridge (arrow) typical of all species of Philinopsis with long narrow muscular pharynx.
D, near Ilot Kendec, 20°40.5'S, 164°13.4'E, 18m, in Lagoon, off Koumac, New Caledonia, grey sand, 9 October 1993, 1 specimen 22mm long alive, AM C200420.
PHOTOS: Bill Rudman.
This species was described by Eliot (1903) from Wasin Is, off Kenya and has not been reported since. I found specimens in Tanzania in the 1970s, one is illustrated here, and another was identical in colour to a specimen from Sulawesi, Indonesia, illustrated in Lindsay Warren's message below. Also in that message I have added a copy of Eliot's illustration of the species. The body colour ranges from white to dull yellow and there is a reticulate pattern of brown to black all over the body, including the sole of the foot. There are blue markings on the inside edge of the anterior part of the parapodia and along the outer edge of the parapodia.
Another important character is the shape of the head, with a high median ridge, clearly seen in Photo D (arrow). This is an outward indication that this species is one of the group of Philinopsis with a very long narrow pharynx, as discussed under Philinopsis gardineri. Eliot describes this as "pharynx of moderate size, 1.5 mm wide" which means little until it is compared with his description of the foregut of a similarly sized specimen of Philinopsis cyanea - "pharynx is colossal ... breadth 15mm" - a description of the large buccal bulb, typical of most members of the genus.
Nathalie Yonow named a colour form identical to the open reticulate pattern in Photo D, from Elat, Red Sea, as a new species Aglaja phaeoreticulata. She gives no anatomical information, but the pointed shape of the head is typical of species with the long, tubular pharynx. Aglaja phaeoreticulata is a synonym of P. reticulata.
The colour pattern of Yonow's animal, white with an open black reticulation, is found from the Red Sea to New Caledonia, and the darker brown colour form with a much smaller reticulation is found from East Africa to the Western Pacific, suggesting that throughout its range P. reticulata has a variable colour pattern.
References:
• Eliot, C.N.E. (1903) Notes on some new or little known members of the family Doridiidae. Proceedings of the Malacological Society, London, 5(5): 331-337.
• Yonow, N. (1990) Red Sea Opidthobranchia 3: The orders Sacoglossa, Cephalaspidea, and Nudibranchia: Doridacea (Mollusca, Opisthobranchia). Fauna of Saudi Arabia, 11: 286-299.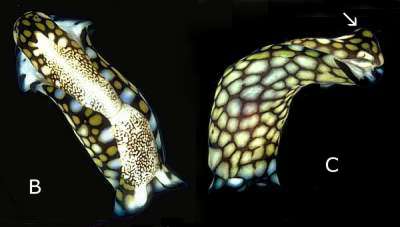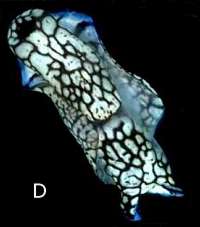 Authorship details
Rudman, W.B., 2000 (July 29)
Philinopsis reticulata
(Eliot, 1903).
[In] Sea Slug Forum.
Australian Museum, Sydney. Available from http://www.seaslugforum.net/factsheet/philreti