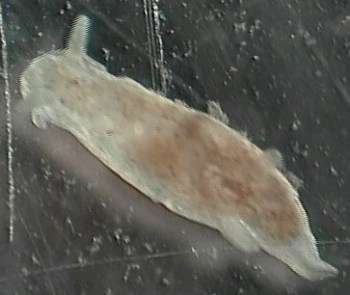 Polycerella emertoni
Verrill, 1880
Order: NUDIBRANCHIA
Suborder: DORIDINA
Superfamily: ANADORIDOIDEA
Family: Polyceridae
Subfamily: Polycerinae

DISTRIBUTION
Atlantic coast of America from Massachusetts, USA to Sao Paulo, Brazil. Also Mediterranean, southern Spain.
PHOTO
Mississippi Sound, USA., on Bugula neritina. PHOTO: Eric Pederson.
Grows to a maximum of 5mm. reported to feed on arborescent bryozoans such as Zoobotryon sp., Bowerbankia gracilis, Amathia distans and reported below on Bugula neritina.
See messages below.
References:
•Behrens, D.W. & Gosliner,T. M. (1988) The first record of Polycerella verrilli, 1881, from the Pacific, with the description of a new species. The Veliger 30(3): 319-324.[ Polycerella glandulosa]
•Garcia, J.C. & Bobo, A. (1986) Un nuevo doridaceo para el litoral Iberico: Polycerella emertoni Verrill (1880) 1881 (Gastropoda: Nudibranchia). Bolletino Malacologico, 22(1-4): 49-56.
•Franz, D.R. & Clark, K.B. (1972) A discussion of the systematics, reproductive biology and zoogeography of Polycerella emertoni and related species. (Gastropoda: Nudibranchia). The Veliger, 14: 265-268.
•Marcus, Er. (1957) On Opisthobranchia from Brazil (2). Journal of the Linnean Society of London, Zoology 43(292) : 390-486. [Polycerella conya]
•Marcus, E. & Marcus, Er. (1960) Opisthobranchs from American Atlantic warm waters. Bulletin of Marine Science of the Gulf and Caribbean, 10(2) : 129-203. [Polycerella conya]
•Marcus, E. (1976) Marine euthyneuran gastropods from Brazil (3). Studies of the Neotropical Fauna and Environment, 11: 5 - 23. [P. conya = P. recondita = P. emertoni]
•Verrill, A.E. (1880) Notice of recent additions to the marine invertebrata, of the northeastern coast of America, with descriptions of new genera and species and critical remarks of others. Part II. Mollusca, with notes on Annelida, Echinodermata, etc., collected by the United States Fish Commission. Proceedings of the United States National Museum, 22:, 381-393, 356-360. [Polycerella emertoni]
Authorship details
Rudman, W.B., 2000 (January 25)
Polycerella emertoni
Verrill, 1880.
[In] Sea Slug Forum.
Australian Museum, Sydney. Available from http://www.seaslugforum.net/factsheet/polyemer