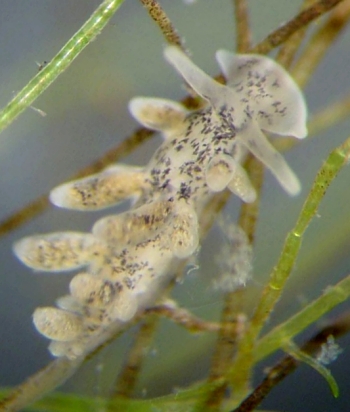 Tenellia adspersa
(Nordmann, 1845)
Order: NUDIBRANCHIA
Suborder: AEOLIDINA
Family: Tergipedidae

DISTRIBUTION
It appears to have a rather cosmopolitan distribution. In the north Atlantic it has been reported from various European sites including the UK and the Mediterranean. It has also been reported from the Atlantic coast of Sth America and in the North Pacific from Japan and much of the west coast of Nth America.
PHOTO
Locality: "L'Ecluse de Verdurette", Domaine de Graveyron, Audenge, Bassin d'Arcachon, 1m, France, Atlantic, 9 October 2006. Length: 3.5 mm. Photographer: Marina Poddubetskaia
The body is a translucent whitish or straw colour with a scattering of dark brown or black irregularly shaped patches. The smooth rounded rhinophores lack any speckling. The cerata can have some black specking and the cream or pinkish digestive gland shows through the ceratal wall. There up to 6 rows of cerata with 2 or 3 cerata in each half row. The head is produced into a flattened oral veil extended on each side into a short tentacle.
This small inconspicuous aeolid rarely reaches 8 mm in length. It lives in shallow and intertidal waters, including estuaries and canals and is found feeding on a variety of hydroids.
Baba, K. & Hamatani, I. (1963) A short account of the species, Tenellia pallida (A. & H.) taken from Mukaishima, Japan (Nudibranchia - Eolidoidea). Publications of the Seto Marine Biological Laboratory, 11, 337-338.

Brown, G. H. (1980) The British species of the aeolidacean family Tergipedidae (Gastropoda: Opisthobranchia) with a discussion of the genera. Zoological Journal of the Linnean Society, 69, 225-255.

Evertsen, J., Bakken, T. & Green, S. (2004) Rediscovery of Tenellia adspersa (Nudibranchia) from the Finnish archipelago. Sarsia, 89, 362-365.

Eyster, L. S. (1979) Reproduction and development variability in the opisthobranch Tenellia pallida. Marine Biology, 51, 133-140.

Harris, L. G., Powers, M. & Ryan, J. (1980) Life history studies of the estuarine nudibranch Tenellia fuscata (Gould, 1870). The Veliger, 23, 70-74.

Thompson, T. E. (1988) Molluscs: Benthic Opisthobranchs (Mollusca: Gastropoda). Leiden: The Linnean Society of London.
Authorship details
Rudman, W.B., 2009 (April 2)
Tenellia adspersa
(Nordmann, 1845).
[In] Sea Slug Forum.
Australian Museum, Sydney. Available from http://www.seaslugforum.net/factsheet/teneadsp