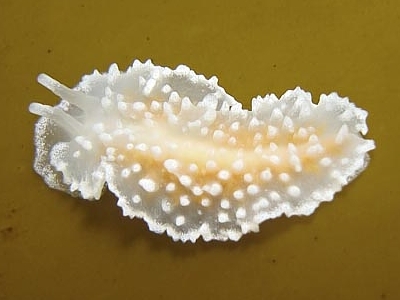 Charcotia granulosa
(Vayssiere, 1906)
Order: NUDIBRANCHIA
Suborder: ARMININA
Family: Charcotiidae

DISTRIBUTION
Known only from Antarctic Peninsula and nearby Wandel Is [= Booth Island]; and  South Orkney Islands [Signy Ids.]
PHOTO
Locality: Cuverville Island, Antarctic Peninsula, Southern Ocean, 12 meters. Length 25 mm. 8 February 2007. Rock wall. Photos: David Cothran
Charcotia granulosa, was described from a single preserved specimen (Vayssiere, 1906). More recently a few living animals were found and described (Wagele et al, 1995) which look very similar to this photo. The shape is similar to an arminid, with a broad mantle skirt overlapping the body down each side but with a gap in the anterior midline. There is a broad oral veil and the genital openings and anal papillae are on the right side of the body. There are conical papillae scattered over the mantle along the mantle edge. The digestive gland forms a solid mass but there are a few branches running up to the the mantle edge but never into the oral veil or foot. The branches are often visible through the translucent body wall.
The rhinophores  are describes as 'petal-like, laterally compressed; tips digitiform' [Wagele et al, 1995] but appear long smooth and cylindrical in this photo.
Vayssière, A. (1906) Diagnoses generiques de mollusques gasteropodes nouveaux rapportes par l'Expedition Antarctique de Dr. Charcot. Bulletin du Museum National d'Histoire Naturelle Paris 12: 147-149.

Vayssière, A. (1906) Mollusques Nudibranches et Marseniades. Expedition Antarctique Francaise (1903-1905). Commandee par le Dr. Jean Charcot. Mollusques. pp. 1-51. pls. 14.

Wägele, H. (1991) Studies on the morphology and anatomy of the Antarctic nudibranch genera Pseudotritonia Thiele, 1912 and Telarma Odhner, 1934 with a discussion of the family Charcotiidae Odhner, 1926 (Nudibranchia: Opisthobranchia). Zoological Journal of the Linnean Society 101: 359-389.

Wägele, H., Barnes, D. K. A., and Bullough, L. W. (1995) Redescription of Charcotia granulosa Vayssière, 1906 (Nudibranchia: Arminoidea: Charcotiidae) from Signy Island, Antarctica. Journal of Molluscan Studies 61: 197-207.

Authorship details
Rudman, W.B., 2007 (February 21)
Charcotia granulosa
(Vayssiere, 1906).
[In] Sea Slug Forum.
Australian Museum, Sydney. Available from http://www.seaslugforum.net/factsheet/chargran