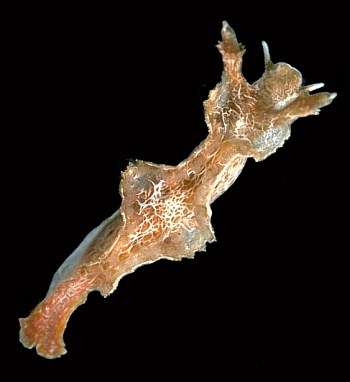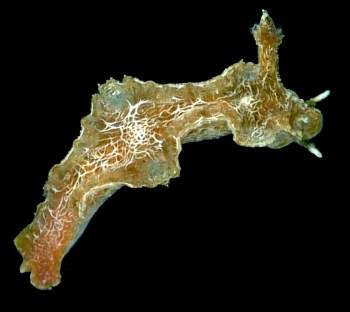 Lomanotus sp. 1.

Order: NUDIBRANCHIA
Suborder: DENDRONOTINA
Family: Lomanotidae

DISTRIBUTION
Tropical western Pacific.
PHOTO
Lagoon between mainland and Récif de l'Infernet, off Koumac, New Caledonia, 20°34.4'S, 164°13'E, 12m, Silty bottom with dense gorgonian beds, on hydroids, October 1993, 17mm long alive. PHOTO: Bill Rudman.
Garcia Gomez et al (1990) recognise five species of Lomanotus. L. genei with 2 pairs of oral tentacles & L. marmoratus with 3 pairs (both widespread in western Europe); L. barlettai from Atlantic Spain, L. phiops from Brazil and L. vermiformis from the tropical Indo-west Pacific, eastern Pacific and western Atlantic, all with a single pair of oral tentacles. Lomanotus sp. 1, also with a single pair of oral tentacles, has large mantle lobes and prominent papillae restricted to the lobes, which is quite different from the only described species in the Indo-West Pacific, L. vermiformis.

References:
•Clark, K.B. & Goetzfried, A, (1976). Lomanotus stauberi, a new dendronotacean nudibranch from central Florida (Mollusca: Opisthobranchia). Bulletin of Marine Science, 26(4): 474-478.
•Garcia-Gomez, J.C. & Lopez-Gonzalez, P.J., Garcia, F.J, (1990). Lomanotus barlettai, a new species of nudibranch mollusk from the Iberian littoral, with remarks on world species of the genus. Canadian Journal of Zoology, 68: 2299-2305.
•Gosliner, T.M, & Bertsch, H, (1985). Records and morphology of Lomanotus stauberi Clark & Goetzfried, 1976, from the Panamic Pacific. The Veliger 27(4): 397-405.
•Marcus, Er. (1957). On Opisthobranchia from Brazil (2). Journal of the Linnean Society of London, Zoology 43: 390-486.
•Willan, R.C, (1988). The taxonomy of two host-specific, cryptic dendronotoid nudibranch species (Mollusca: Gastropoda) from Australia including a new species description. Zoological Journal of the Linnean Society, 94: 39-63.
Authorship details
Rudman, W.B., 1999 (October 13)
Lomanotus sp. 1.
[In] Sea Slug Forum.
Australian Museum, Sydney. Available from http://www.seaslugforum.net/factsheet/lomasp1