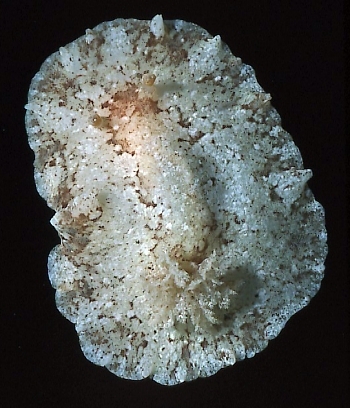 Platydoris inframaculata
(Abraham, 1877)
Order: NUDIBRANCHIA
Suborder: DORIDINA
Superfamily: EUDORIDOIDEA
Family: Dorididae

DISTRIBUTION
Probably wide Indo-West Pacific distribution. Reported from Indonesia, Philippines and Sri Lanka (Dorgan, 2006). Records in Forum from Tanzania and New Caledonia.
PHOTO
Upper right; Lower left:  Passe du Baron, off Koumac, New Caledonia, 20°33.7'S, 164°10.3'E, 12m,  In lagoon, sand with Heteropsammia, 14 October 1993,  63 mm long alive, AM C200480. Lower right: S of Île Rédika, (S Lagoon), 23 m, 18 October 1988, in coral sand patch with Halimeda and Caulerpa, coll: P.Laboute,  AM C156645. Photos: Bill Rudman.
In a recent revision (Dorgan et al, 2006) of the genus Platydoris, this large dorid, with a rather nondescript dorsal colour pattern of mottled white, pink and browns is identified as Platydoris inframaculata (Abraham, 1877).  As Dorgan et al note, its most distinctive external feature is the bright white underside with a spectacular pattern of red splashes on the underside of the mantle and the side of the foot and a yellow or orange ring running round the mantle about midway out. Abraham's description is based on a preserved decolourised Platydoris. Although he mentions brown spots of different sizes, a number of species of Platydoris have brown spots ventrally. Also, as I illustrate here, this 'distinctive' colour pattern is not always present.
In many specimens the ventral side of the mantle is brilliantly coloured white with large and smaller red spots scattered over the inner half. More small red spots form a band around the mantle about halfway out. This band is overlain with a broad band of orange. In some specimens, however, the red and orange ventral colour pattern is replaced by an aggregation of dark brown spots on the inner half of the mantle. Usually there is a faint trace of the yellow-orange band [lower left photo], but in some specimens it is almost impossible to see. While the red and orange colour pattern would probably be recognisable in earlier descriptions - especially if the outer ring of small red spots is present, it is not possible to determine if one or more of the many early descriptions of mottled brown dorids, applies to the colour form of this species which only has brown spots ventrally.
In New Caledonia it is associated with, and well-camouflaged on, soft sandy substrates and a specimen from Tanzania (personal observation) half-buried in sand in an aquaria. The species Eliot (1904) reported from Kenya as Platydoris ellioti? (A. & H.) has a ventral colour pattern with brown spots and an orange band. It is clearly this species and not Platydoris ellioti (Alder & Hancock) . It is possible that the species reported by Pruvot-Fol (1954) from Hikuera, as Austrodoris ellioti, is this species.
See message #20084 discussing the use of the name P. inframaculata
Abraham, P.S. (1877). Revision of the Anthobranchiate nudibranchiate mollusca, with descriptions or notices of forty-one hitherto undescribed species. Proc. Zool. Soc. London, 1877: 196-269.

Alder, J. and Hancock, A. (1864) Notice of a collection of nudibranchiate mollusca made in India by Walter Elliot Esq., with descriptions of several new genera and species. Transactions of the Zoological Society of London 5: 113-147.

K.M. Dorgan, A. Valdes and T.M. Gosliner. (2002) Phylogenetic systematics of the genus Platydoris (Mollusca, Nudibranchia, Doridoidea) with descriptions of six new species. Zoologica Scripta, 31: 271-319.

Eliot, C.N.E. (1904) On some nudibranchs from East Africa and Zanzibar. Part III. Dorididae Cryptobranchiatae, I. Proceedings of the Zoological Society of London, 1903(2): 354-385, Pls.32-34.

Pruvot-Fol, A. (1954) Etude d'une petite collection d'opisthobranches d'Oceanie francaise. Journal de Conchyliologie, 94(1): 3-30.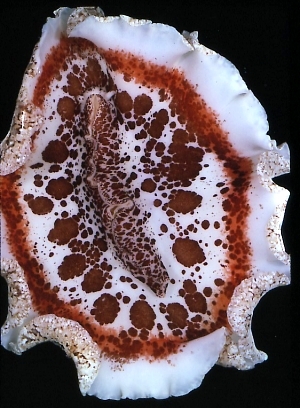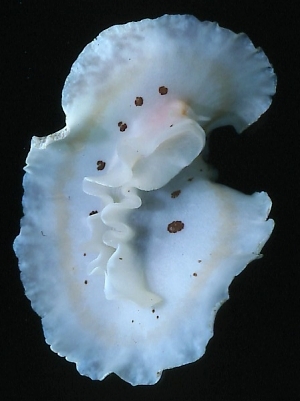 Authorship details
Rudman, W.B., 2007 (June 28)
Platydoris inframaculata
(Abraham, 1877).
[In] Sea Slug Forum.
Australian Museum, Sydney. Available from http://www.seaslugforum.net/factsheet/platinfr