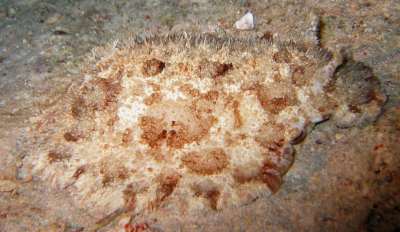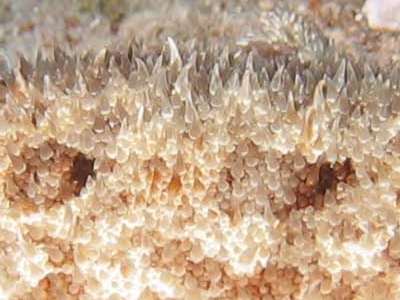 Sebadoris nubilosa
(Pease, 1871)
Order: NUDIBRANCHIA
Suborder: DORIDINA
Superfamily: EUDORIDOIDEA
Family: Discodorididae

DISTRIBUTION
Tropical Indo-West Pacific
PHOTO
Hurghada, El Eruk, Egypt. Red Sea. Depth: 10 m. Length: ca. 20 cm. 8 November 2005. sand bottom. Photographer: Marc ? [from Sven Kahlbrock #15283]
Sebadoris nubilosa can be characterised externally by its relatively soft mantle, covered with soft pointed tubercles, mottled with light brown colours and a few small dark brown patches. The underside of the mantle is translucent white with a distinct submarginal dark-brown band. Between this band and the body are scattered large brown spots. The sides and sole of the foot are translucent white with dark brown spots. The animal can swim if disturbed and autotomise the whole or part of the mantle skirt. The penis is armed with spines and when retracted has a characteristic spiral shape.
Kay & Young's (1969) report from Hawaii is most probably incorrect as their animal apparently had an unarmed penis.
Eliot, C.N.E. (1904) On some nudibranchs from East Africa and Zanzibar. Part III. Dorididae Cryptobranchiatae, I. Proceedings of the Zoological Society of London, 1903(2): 354-385, Pls.32-34.

Eliot, C.N.E. (1906): On the nudibranchs of Southern India and Ceylon, with special reference to the drawings by Kelaart and the collections belonging to Alder & Hancock preserved in the Hancock Museum at Newcastle-on-Tyne. Proceedings of the Zoological Society of London [for 1906], 2, 636-691. (Pls. 42-47)

Edmunds, (1971): Opisthobranchiate Mollusca from Tanzania (suborder Doridacea). Zoological Journal of the Linnean Society 50(4), 339-396. (Pl.1)

Kay, E.A. & Young, D.K. (1969) The Doridacea (Opisthobranchia: Mollusca) of the Hawaiian Islands. Pacific Science, 23(2): 172-231

Marcus, Er. & Marcus, Ev (1960) Opisthobranchia aus dem Roten Meer und von den Malediven. Akademie der Wissenschaften und der Literature, Abhandlungen der Mathematisch-Naturwissenschaftlichen Klasse 12, 873-933.

Marcus, Er. & Marcus, Ev. (1970) Opisthobranch mollusks from the southern tropical Pacific. Pacific Science, 24(2): 155-179..

Pease, W.H. (1871) Descriptions of new species of Nudibranchiate Mollusca inhabiting Polynesia. No.2. American Journal of Conchology. 7 (1): 11-19
Authorship details
Rudman, W.B., 2005 (November 17)
Sebadoris nubilosa
(Pease, 1871).
[In] Sea Slug Forum.
Australian Museum, Sydney. Available from http://www.seaslugforum.net/factsheet/sebanubi