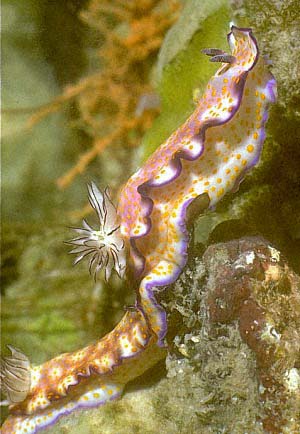 Risbecia pulchella
(Ruppell & Leuckart, 1828)
Order: NUDIBRANCHIA
Suborder: DORIDINA
Family: Chromodorididae

DISTRIBUTION
Indian Ocean. Relatively common in the Red Sea and East Africa. Reported below from southern Thailand.
PHOTO
ALL PHOTOS: Mbudya Is, Dar es Salaam, Tanzania, February 1979. Note characteristic 'tailing' behaviour. 70, 65mm long. PHOTOS: Bill Rudman.
Originally described from the Red Sea, where it coexists with the similarly coloured Risbecia ghardaqana and Chromodoris annulata. See my message comparng these species. In the western Pacific there is another species, Risbecia imperialis, which differs externally only in the absence of the purple border to the foot and the smudged purple reticulate pattern found on the dorsum of this species.
Gohar & Aboul-Ela (1957) studied this species in some detail, and the following paragraph summarises their description of the species. It grows to 10cm fully extended. The mantle is of a somewhat opaque creamy white, marked by a bluish purple tinge in irregular areas on the mantle and sides of the foot. All the dorsal surface of the mantle and the foot is covered with yellowish orange spots of irregular shape and different sizes. The mantle margin is fringed with a thin border of bright bluish violet. The posterior tip of the foot may have a similar border. The front of the mantle forms a veil which continuously waves up and down when crawling. The rhinophores have a white stem and blue leaves. The gills are simple and the colour of the edge can vary from violet to orange yellow in a single specimen. The gills are often branched and wave rhythmically from side to side. When recently spawned, the egg ribbon is reddish orange and it is attached along one edge in a spiral, the free edge being slightly wavy.
These photos show the characteristic 'trailing' behaviour found in all species of Risbecia, where pairs of animals are often found following each other in single file, the second animal in the line usually touching the 'tail' of the one in front. See Erwin Koehler's messages about this behaviour in Risbecia pulchella and Risbecia tryoni.
References:
• Gohar, H. A. F., & I. A. Aboul-Ela. 1957a. The development of three chromodorids (with the description of a new species). Publications of the Marine Biological Station, Al-Ghardaqa, Egypt, 9: 203-228, pls. 1-5.
• Rudman, W.B. (1984) The Chromodorididae (Opisthobranchia: Mollusca) of the Indo-West Pacific: a review of the genera. Zoological Journal of the Linnean Society, 81: 115-273.
• Rudman, W.B. (1987) The Chromodorididae (Opisthobranchia: Mollusca) of the Indo-West Pacific: Chromodoris epicuria, C. aureopurpurea, C. annulata, C. coi and Risbecia tryoni colour groups. Zoological Journal of the Linnean Society, 90: 305-407.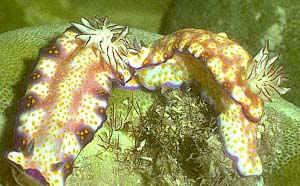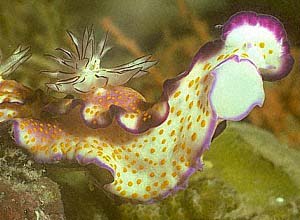 Authorship details
Rudman, W.B., 2003 (April 8)
Risbecia pulchella
(Ruppell & Leuckart, 1828).
[In] Sea Slug Forum.
Australian Museum, Sydney. Available from http://www.seaslugforum.net/factsheet/risbpulc